Sawston stadium
'City's Sawston stadium important for us too'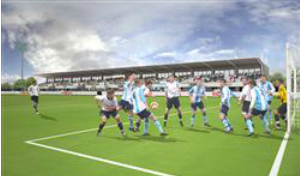 The wider benefits of Cambridge City's plans to move to Sawston have not been fully appreciated, according to the chairman of Cambridge Women, one of City's key partners.
City's hopes of building a new permanent home suffered a blow when the Sawston project was not included in South Cambs District Council's Local Plan.
But David Baker believes the fact the ground would also be home to the women as well as other teams affiliated to City as FA Charter partners, has not been widely acknowledged by the Sawston community.
"It's disappointing the way things have gone so far," he said.
"There doesn't seem to be a positive route for developing football in Cambridge.."
Playing in the South East Combination League along side the likes of Ipswich Town, Norwich City, MK Dons and Queens Park Rangers, Cambridge Women are the highest ranked women's football club in the county. The women hope to win the league this season and have applied to join the newly formed Women's Super League. They also have a development squad.
Home games are played at Ely City but as partners of Cambridge City they want to be based in the same place.
"Having one stadium for all the teams is very important. We have a close tie-in with Cambridge City but it's difficult because our locations are different. It would benefit both clubs and allow us to work closely together it we're based in the same place.
"If the project doesn't happen, what will happen to football in Cambridge in the next five, 10, 15, 20 years?"
City chairman Kevin Satchell admitted the club could do more to push the community aspect of the project, but hopes the club will do a better job of it in future.
"We're more than just a first team," he said.
"We're part of a bigger group – two women's teams, six girls' teams, a reserves side, a Disability team and an under-15 boys' team.
"We probably haven't emphasis that enough. We represent a lot of people who play football and there would be huge benefits not just for us but the whole community."