Nat is the Baker
Nat is the Baker in Cup Final Win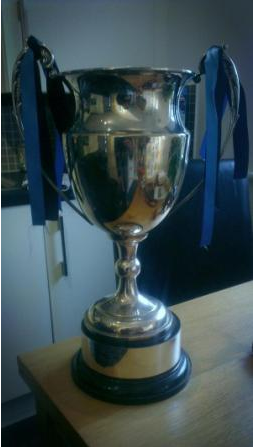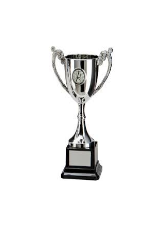 Cambridge Women were crowned County cup champions after a close victory over Great Shelford Ladies in an epic cup final.
With one league separating the two teams Cambridge were the favourites on paper.  However Shelford have had a strong season so far and with a couple of ex Cambridge players in the team, Cambridge knew it wasn't going to be an easy game. There were a lot of nerves in the Cambridge changing room prior to the match, the  girls wanted to put on a good display and get their hands on that trophy for a second time.  Shelford who were runners up in the competition last year, were just as keen to get their name on the trophy for the first time and as 'under dogs' they could play without too much expectation.
Cambridge were a bit slow to start and as expected Shelford went at them at 100 miles an hour. The Skyblues knew they would just need to keep their composure and nerve soaking up the pressure.  Manager Hoover started with a 4, 2, 3, 1 formation which had proved successful in terms of performance from the previous Sunday against league leaders Chesham. However the Cambridge girls struggled with the formation, unable to settle and the first 20 minutes produced what was a very uncharacteristic, nervy display. About 15 minutes in ex Cambridge star and Shelford forward Sophie Hopkin managed to get past the usually resolute Cambridge defence but Verity Crook was quick off her line to force the shot over the crossbar.  This forced Cambridge to up their performance and their first real passage of play resulted in a goal.  A pass out from the centre of midfield to Laura Baker on the right, saw Baker burst down the wing before playing a neat ball into Sophie Thompson. Thompson then spotted the run of Natalie Richardson on her left and played the ball in between the Shelford centre back and right back for Richardson to run on to. Richardson then dinked delightfully over the advancing keeper, a superb finish and a goal which would hopefully settle the Cambridge nerves.
20 minutes in Cambridge 1 – Shelford 0.
The exchanges which followed were mostly in the midfield. Cambridge started to take a hold of the game and started to get into a rhythm, and pushed to get a second goal.  However a hopeful lump up field from a Shelford defender to forward Sophie Hopkin, and a lapse in concentration from the Cambridge defence resulted in a Shelford equaliser.  Some viewed Hopkin to be offside but the flag stayed down. To be honest it was the least they deserved for all their hard work and endeavour in the first half.
35 Minutes Cambridge 1 – Shelford 1
This knocked the Cambridge girls confidence but they knew there was an awful lot more in their locker to see the game off and a goal before halftime was exactly what was needed.  Cue Richardson, a girl who can get a goal at the most crucial of times. After a good passage of play Richardson found herself bursting down the left hand flank, she cut inside the Shelford defender and curled her 20 yard shot round the goal keeper the ball bounced off the right hand upright and into the goal, unstoppable!  Cambridge went into the break with a 2 – 1 lead but with still a lot to do.
Half Time 2 – 1
The Hoover hairdryer was blowing hot at half time, as the manager tried to get his girls to lift their performance.  However the second half started much like the first and some early changes were called for. Off came Faith Hewitt and skipper Hannah Goodchild, who was struggling with a knock.  In their place Laura Brown and Kim Motley, and a change the formation to a 4-4-2, with Baker now partnering Thompson.  Immediately calm was resorted and in patches Cambridge began to look like their old selves, keeping possession and creating chances. However Cambridge then gifted Shelford an equaliser. Shelford striker Sophie Hopkin beat the offside trap and managed to get her shot away.  The attempt which normally Crook would easily save turned into an uncharacteristic error saw the ball go in the back of the net.
2 -2
The goal seemed to galvanise Cambridge and made them more determined to get a winner.  They began to really dominate the game and it seemed that it was just a matter of time before that winning goal would come. Cambridge superior fitness levels began to show whilst the Shelford girls started, cramping up after giving everything they had throughout the game.
Hoover then made a clever substitution with Kelly Docwra replacing Laura Bright, freshening things up. The move paid dividends and it wasn't long before that winner came. Hard work from the midfield saw the ball pop out to Laura Baker who's dogged determination taking on defender after defender saw her slot the ball neatly under the Shelford keeper  from what looked like an impossible angle.
Cambridge 3 – Shelford 2
Once in front Cambridge manager Kevin Hoover decided to utilise the Cambs FA rules of roll on roll off subs and back on came Faith Hewitt to replace Kayleigh Ann Burt, Laura Brown went into the centre of defence alongside Nic Geoghan and Hewitt back into centre midfield. Hoover also decided to bring the experienced duo of Laura Bright and Hannah Goodchild back onto the field replacing goalscorers Laura Baker and Nat Richardson. The experience of the duo resulted in Cambridge remaining tight defensively  but despite Cambridge being in control Shelford did muster the energy for one final attempt on goal only to be thwarted by solid defending from Emma Jenkins and a super save from Verity Crook in the Cambridge goal.
So it ended with Cambridge the victors, but all credit to Great Shelford they put every ounce of effort into their performance and really troubled The Skyblues..
Vice Chair Victoria Hoover joined in with celebrations and commented "I was very nervous before the game so It's great to have the cup back where it belongs this is the second time we have won it since we became Cambridge Women's FC in 2009.  We have previously won this cup 5 times when we were individually known as Cambridge Utd and Cambridge City.  So the cup is well and truly home."
Before the game manager Kevin Hoover did comment on how lucky he was to have such a strong bench, the difficulty was picking the team when they are all so good.
In his post match conference Kevin told amberarmy.net "Nerves were our downfall today, and I will admit I made a few errors with the formation however this resulted in being a bit of a leveller of the two sides." Hoover added "It made a good game for the neutral,  the match was a good advert for women's football." In summing up Hoover said " I  am absolutely elated with the win, it tops off another solid season although next year we have to keep it and also retain the league cup again."
Cambridge : –  Verity Crook, Carrie Bennett, Nicola Geoghan, kayleigh Ann Burt, Emma Jenkins, Natalie Richardson, Hannah Goodchild, Faith Hewitt, Laura Bright, Laura Baker, Sophie Thompson – SUBS- Laura Brown, Kim Motley, Kelly Docwra – Subs Not used Liz Pamplin, Becca Fay.