Welcome to Cambridge Womens FC Fan Club
Cambridge Women's F.C. was formed after the merger of Cambdrige's top 2 clubs in 2009, City and United. We are always looking for talented new players who feel they can contribute to the squad.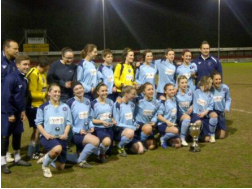 Cambridge Women's Team takes pride in being the highest competing ladies team in Cambridgeshire, playing in the South East Combination League.
Players playing for Cambridge Women will receive high quality coaching from coaches from the Cambridge Girls Centre of Excellence under the direction of Ian Hart.
We now have two Teams within the Club, the first team and a Development Squad. All teams receive the same training, kit, and opportunities. Opportunities such as being able to represent the county side Cambridgeshire Ladies, if selected.
Here at Cambridge Women FC we have a fantastic network and links with youth teams, Cambridge Girls centre of excellence and the county squad. Any female player over 16 wishing to participate and contribute to football in Cambridge is encouraged to get in touch as we have many opportunities at many levels.
Kevin Hoover is now moving into his 4th season with the first team squad and is looking forward to more success after winning the  S.E. Combination League Cup in the last two seasons; the first Club ever to achieve back to back Cup success.
Emma Roberts has taken charge of the new Development Squad which will be playing in the Cambridgeshire S-Tech league.  After many years at the club and helping the 1st team reach the S.E.Combination League Emma, a qualified, Level 2 coach, will share her extensive knowledge in the development of these younger players.